October 21, 2017
7 CEUs for Licensed Counselors, Social Workers, ICDVP & PAIP
This training is for students, lay people, and professionals.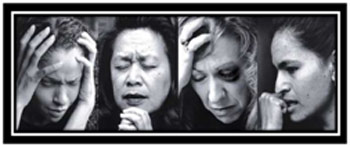 One in four women in our churches experience domestic violence and abusive relationships.
FOCUS faith based domestic violence training is a training program designed for those interested in working with domestic violence victims/survivors within the Christian community.
Participants can expect to learn the dynamics of domestic abuse and best practices in co-facilitation of groups and/or a role of an advocate.
God delights in restoration of shattered souls. Healing comes by fully understanding the nature and ramifications of abuse.
FOCUS believes that following a biblical path of restoration allows God's grace to touch the heart's deepest wounds.
Course Description
What is Domestic Violence
Types of Abuse
Cycle of Abuse
Profile of an Abuser
Signs of Abuse
Inside the mind of an Abuser
Why Does She Stay
Impact of Domestic Violence
Effects on Children
Teen Abuse
Do's and Don'ts of Counseling
Signs He's Changed
Helper versus Rescuers
Course Details
Location
FOCUS Ministries, Inc. will hold its training at the FOCUS Office
57 E. Park Blvd.
Villa Park, IL 60181
630-617-0088
Date:
Saturday, October 21, 2017
Schedule:
9:00 am—4:30 pm
Doors open by 8:30 am
Cost:
$50.00
$25.00 Student Registration
7 CEUs: $25.00

Training fee includes the training manual, snacks and lunch.
Licensed Counselors, Social Workers, ICDVP & PAIP registration fee is $50 plus $25 for 7 CEUs

For a printable copy of the brochure for more information and to print out copies to give to others, Download Brochure.
REGISTRATION DEADLINE:
Oceober 11, 2017
Call 630-617-0088 after October 11 for space availability.
Online Registration
$50.00
Registration Deadline:
October 11, 2017
Unlicensed Attendees
Licensed Counselors & Social Workers, ICDVP & PAIP
$25.00 Student Registration
Mail-in Registration
To register by postal mail, please download the registration form:
Mail in registration

Please print the registration form, fill it out and send it with a check or money order to:
FOCUS Ministries, Inc.
57 E. Park Blvd.
Villa Park, IL 60181
Our Trainers

Paula Silva
Paula Silva is co-founder and president of FOCUS Ministries, Inc. and coauthor of the book, Violence Among Us: Ministry to Families in Crisis. Paula has an MA in Counseling from Northeastern Illinois University and has also attended Larry Crabb's School of Spiritual Direction. She counsels and coaches those who experience abusive relationships since 1995. She is the trainer at Partners in the Journey seminar, training for support groups leaders, and support group facilitator for women who have been abused.

Evelyn Colon
Evelyn Colon is an Illinois Certified Domestic Violence Professional and Abuser Intervention Facilitator. Evelyn joined FOCUS in 2007 as a leader and facilitator for FOCUS Support Group Ministry. Evelyn has a heart for hurting women and has ministered to those women in the Christian community that have experienced domestic violence and abuse. Evelyn also is a trainer at Partners in the Journey seminar for FOCUS Ministries, Inc.