In Partnership with Pittsburgh Pastoral Institute
March 10, 2018
7 CEUs for Licensed Counselors, Social Workers, Marriage and Family Therapists
This training is for pastors, church leaders, lay people, and professionals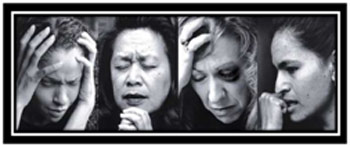 One in four women in our churches experience domestic violence and abusive relationships.
FOCUS faith based domestic violence training is a training program designed for those interested in working with domestic violence victims/survivors within the Christian community.
Participants can expect to learn the dynamics of domestic abuse and best practices in co-facilitation of groups and/or a role of an advocate.
God delights in restoration of shattered souls. Healing comes by fully understanding the nature and ramifications of abuse.
FOCUS believes that following a biblical path of restoration allows God's grace to touch the heart's deepest wounds.
Course Description
What is Domestic Violence
Types of Abuse
Cycle of Abuse
Profile of an Abuser
Signs of Abuse
Why Does She Stay
DV Impact on Children
DV Impact on Teens
Do's and Don'ts of Counseling
Signs He's Changed
Helper versus Rescuers
Course Details
Location
Pittsburgh Baptist Church
3100 Pioneer Avenue
Pittsburgh, PA 15226-1741
Directions
Date:
Saturday, March 10, 2018 NONREFUNDABLE
Schedule:
9:00 am—4:30 pm
Doors open by 8:30 am
Cost:
$60.00 NONREFUNDABLE REGISTRATION FEE
7 CEUs: $25.00 NONREFUNDABLE

Training fee includes the training manual, snacks and lunch.
Licensed Counselors, Social Workers, Marriage and Family Therapists registration fee is $60 plus $25 for 7 CEUs
For more information about Pittsburgh Pastoral Institute, visit www.ppi-online.org.
NO REGISTRATIONS WILL BE TAKEN AT THE DOOR
For a printable copy of the brochure for more information and to print out copies to give to others, Download Brochure.
REGISTRATION DEADLINE:
March 1, 2018
Call 630-617-0088 after March 1
for space availability.
Online Registration
NONREFUNDABLE REGISTRATION FEE
$60.00
Registration Deadline:
March 1, 2018
Unlicensed Attendees
Licensed Counselors & Social Workers, Marriage & Family Therapists
Mail-in Registration
To register by postal mail, please download the registration form:
Mail in registration

FOCUS Ministries is accepting mail in registrations. Please print the registration form, fill it out, and send it with a check or money order payable to FOCUS Ministries to:
FOCUS Ministries, Inc.
57 E. Park Blvd.
Villa Park, IL 60181
Our Trainer
Doreen Weiss is a Licensed Professional Counselor. She obtained her Bachelors from Geneva College in Community Ministries her Master in Community Counseling from Indiana University of Pennsylvania. Doreen is also the Founder of Enduring Hope: Christ –centered Counseling, a ministry for women who are spiritually emotionally and/or physically at risk.
Doreen uses the Biblical approach, and is certified in, Cognitive Behavioral Therapy. Doreen has specialized training in, Addiction and Recovery, Genesis Process, and ASIST, for suicide intervention. Doreen has additional training in trauma resolution and post-traumatic stress disorder, and experience in, but not limited to, depression, anxiety, post abortion syndrome, crisis counseling, and victims of domestic violence and sexual abuse.