Faith Based Domestic Violence Help
There is hope in healing!
On the average, a woman in the United States is battered by a partner every 12 to 15 seconds. Up to 6 million women are believed to be beaten in their homes each year. At least 30 percent of all murders of women in America are committed by intimate partners. And in the Christian community, one in every four women experiences family violence. How do we address this harsh reality?
Women and families experiencing domestic violence are looking for a safe place to tell the secret of the oppression they are experiencing and to live and thrive with renewed hope. They are looking for safe people who will love and support them. They are looking for a safe church where they will be believed and helped.
FOCUS Ministries is a safe place. We are passionate about helping women and families not only survive, but thrive. Whether you:
…the time to act is now. Follow the links above, call us, or e-mail us today. There is hope in healing!
About FOCUS
FOCUS Ministries is a not-for-profit 501(c)(3) organization offering hope, encouragement, support, education, spiritual direction, and assistance to teens, women, and families who experience domestic violence, destructive relationships, separation, or divorce. Our acronym explains it best. Through counseling, education, training, support groups, and tangible resources, we are dedicated to helping others.
Focus On Christ for Ultimate Satisfaction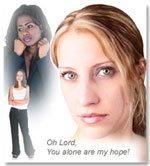 Psalm 71:5