Abigail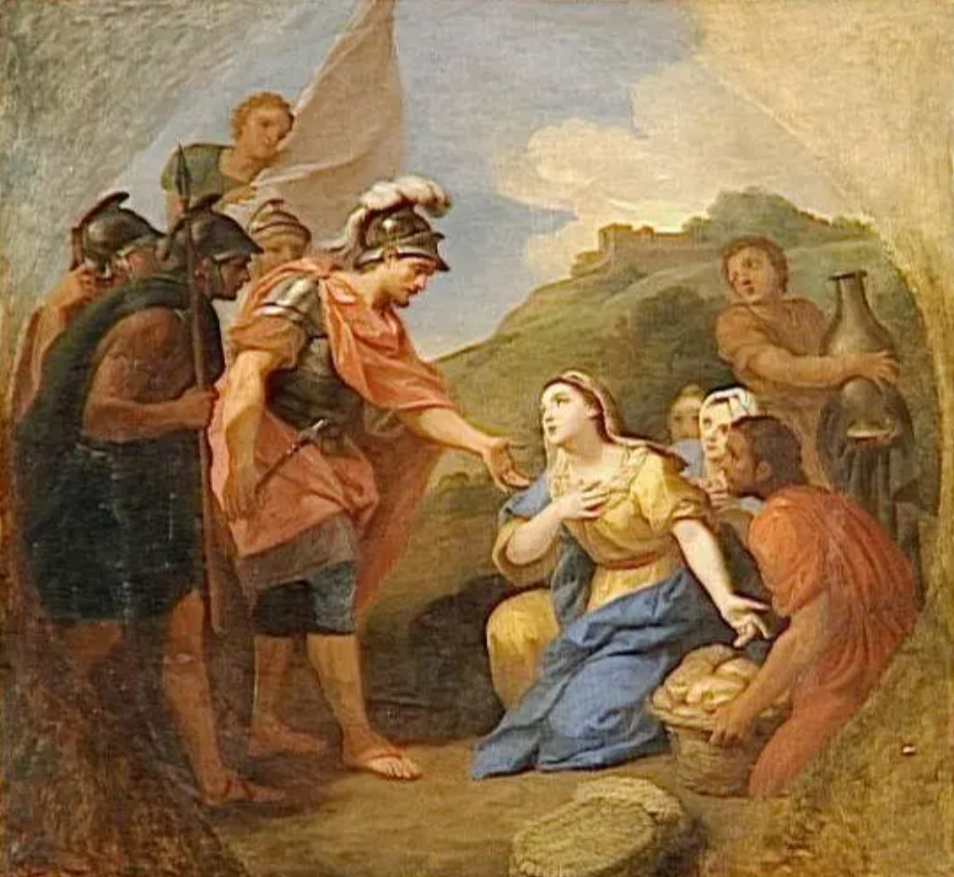 The Bible is full of true stories. God saved these real stories about real people who really lived so that we could learn from them.  This week I've been reading the story of Abigail over and over.  I believe God has something for us in her story which is saved in 1st Samuel 25:2-42, just forty verses telling how she went from being the wife of an abuser to being the wife of the one who would be the king of Israel, a man after God's own heart.
First let's take a quick look at the character of her first husband, Nabal.  In Hebrew, his name is Nabhal which actually translates as "fool".  The Bible tells us that he was very rich and had a good sheep business going on near Carmel.  He was of the house of Caleb which was an excellent lineage in those days, but the man was harsh and evil in his doings.  He was a scoundrel! 
In contrast, the Bible describes Abigail as a woman of good understanding and beautiful appearance.  As the story unfolds, she is easily seen as a woman who fears the Lord.  She is humble and wise in her dealings with David the soon-to-be-king.
Here's the setting:  Nabal and his workers were knee-deep in sheep shearing season.  Springtime in Carmel in northern Israel is a lovely and happy time. There was much feasting to be done. This story happened probably around the time of Purim in Israel (early March). 
David and his soldiers were in the vicinity and had been doing security work, protecting Nabal's shepherds from bands of marauders and wild animals.  They were hungry so David sent a few of his guys to the camp of Nabal to ask for "whatever he thought best" as far as supplies and food is concerned.  
Nabal wasn't impressed and responded in his typical foolish, churlish way.  "Who is David and who is the son of Jesse?  There are many servants nowadays who break away each one from his master.  Shall I then take my bread and my water and my meat that I have killed for my shearers, and give it to men when I do not know where they are from?"
Probably not the best way to answer the future king of Israel.  David's men returned to him with this message and he promptly ordered every man in the army to grab his sword and they headed out to Carmel for some bloody business with the man Nabal.
In the meantime, one of Nabal's servants who had heard his nasty reply to David's men, hurried back to Abigail to warn her of the harm to come because of the sharp tongue of the scoundrel, her husband Nabal.  This very wise woman decided it was time to intercede, come what may.  The Bible says that she hurried and gathered some delicious foodstuffs to bring to David and his men.  I love how God even gave us the list of foods she packed up on her donkeys:  two hundred loaves of bread, two skins of wine, five sheep already dressed, five measures (baskets) of roasted grain, one hundred clusters of raisins, and two hundred cakes of figs.
"But she did not tell her husband Nabal."
Her servants led the donkeys loaded with food and she jumped on her own donkey to go out and meet David.  Imagine her courage!
David was still furious about the snub and planning to slaughter the whole population of Nabal's workers and the household of Nabal himself as he moved closer and closer to Carmel.  
"Now when Abigail saw David, she dismounted quickly from the donkey, fell on her face before David, and bowed down to the ground. She fell at his feet…"  When I think of Abigail's humility and how brave she was to defy her husband and try to work out a negotiation with David, I am so encouraged.  God gives us wisdom in these days!  
She begged for the life of her abusive husband and for David to reconsider his violent plan.  She asked God to bless him, to make for him an enduring house because of David's commitment to God.  She prayed that evil would not be found in him throughout his days.  She prophesied that one who seeks David's life would not succeed in his blood thirst and that all good the Lord had planned for David would come to pass.  AND that he would remember that she was his maidservant.  She gave him the gifts, the peace offerings of food for him and his men.
The heart of David the warrior and future king melted at her wise and kind words.  "Blessed is your advice and blessed are you, because you have kept me this day from coming to bloodshed and from avenging myself with my own hand.  For indeed as the Lord God of Israel lives, who has kept me back from hurting you, unless you had hurried and come to meet me, surely by morning light no males would have been left to Nabal!"  He blessed her in the name of the Lord God of Israel.  He received her gifts and said to her, "Go up in peace to your house.  See, I have heeded your voice and respected your person."
Abigail went back home where her husband, Nabal was holding a feast in his house, like the feast of a king.  His heart was merry within him, for he was very drunk.  She wisely didn't talk to him that evening, but waited until morning when he was sober and then told him all that had transpired with David the day before.  
When Nabal heard her report, his heart died within him and he became like a stone.  Then it happened, after about ten days, that the Lord struck Nabal, and he died.  Seriously.  That happened.
David heard that Abigail's husband was dead.  He remembered her kindness, her courage, her wisdom and her beauty and sent for her.  David proposed marriage to Abigail, and she said "YES!"  And they lived happily ever after.
I pray you see a little (or a LOT) of Abigail in yourself today.  We sure do not know how God may bless our courage and our faith, but I DO know we can trust Him today.  Jesus sees your circumstance.  He does not approve of abuse.  He is not in favor of the Nabal in your life, but has a better plan.  I cannot guarantee that your abuser will see the same chilling ending as Nabal, but I DO know that our God loves us and He is the same – yesterday, today and forever.  He is full of justice and love for His daughters.  He blessed Abigail.  He blesses us.  He blesses you.  Shalom.